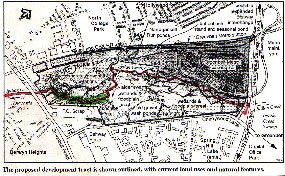 Map with Indian Creek section through gravel mine (green).
Drifting through the gravel mine that dates to the 1910s, before environmental regulations were enacted, we see evidence of past abuses.
An aging sewer (?) pipeline crosses the creek. only a thin buffer of young trees remains on the stream banks.

Wet concrete has been poured on the banks of the stream, perhaps in an attempt to control or "stabilize" the flow of water through the floodplain.