This time, Purple Loosestrife was observed at a storm water pond at Greenbelt Road and Kenilworth Avenue.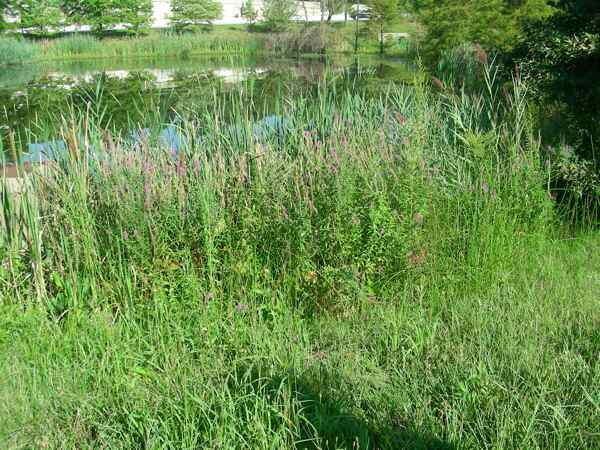 This is not the only location where the plant is seen, it is also found along East-West Highway and on Hanover Parkway near Schrom Hills Park in the Still Creek watershed.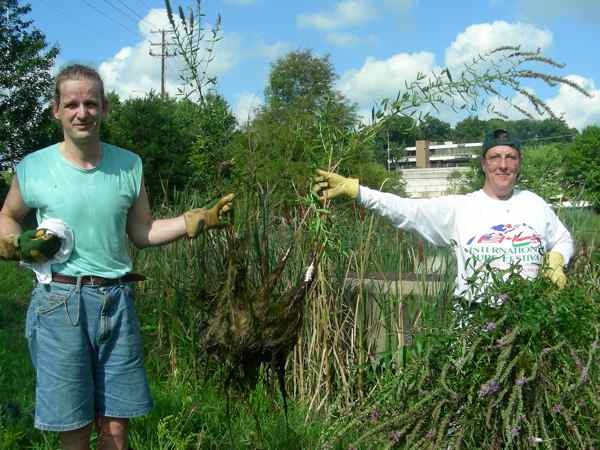 Three of us, Michele (behind the camera), Vicky and Lutz, went out and removed part of the blooming plants. The effort took about 2 hours and covered about 1/6 of the pond's circumference. The occurrence of the plant has been reported to the Maryland Department of Natural Resources.
July 2009
Harriette Phelps gave a presentation at the Anacostia Watershed Society on her 2008 biomonitoring research results on PCB, PAH, Chlordane and other organic compounds in streams in the Anacostia watershed. Indian Creek in Beltsville shows high contamination from parking lot runoffs and in the Sligo Creek and Still Creek watersheds, Chlordane, a pesticide banned in the 1980s, was found.
Her 2008 research can be found on her Recent Publications page.
In the Novenber 2009 Chesapeake Bay Journal, her work is featured.